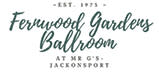 Fernwood Gardens Ballroom at Mr. G's
5890 Hwy 57
Jacksonport, WI 54235
Food Services, Venues, Caterers, Ceremony Venue, Reception Venue
Summary
Established in 1973, Mr G's, has built a tradition of outstanding service, incredible food and beautiful wedding receptions. Our reputation for being classic and nostalgic has been widely embraced by patrons since then. Whether intimate or grand, Mr. G's has the perfect space to accommodate your guests. Our Paldora Banquet Room seats up to 100 and is just right for an intimate wedding, bridal shower, or rehearsal dinner. The Fernwood Gardens Ballroom is an old fashioned setting for weddings up to 400. With hosting over 40 years of events, It still proves to have the same luster it did when its doors were first opened. It features hardwood floors, a full stage, and two bar areas. The Broadway Bar offers a large bar and fireplace, and our Library Bar provides comfortable seating. Our staff will ensure that everything from customizing the menu to delivering dinner is seamless. Mr G's has hosted hundreds of weddings, parties and celebrations, giving personalized attention to each one.
We Accept Door County Gift Certificates
Use for lodging, restaurants, shopping, attractions, performances, groceries, tours, and more!
View All Participating Members