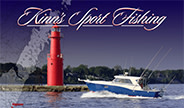 Kinn's Sport Fishing
3600 County Rd CC
Sturgeon Bay, WI 54235
Boat Tours, Fishing, Water Adventures, Fishing Charters/Guides
Summary
Kinn's Sport Fishing is a full-time charter fishing service, operating a fleet of ten custom sport fishing boats seven days a week. We pride ourselves in providing the best salmon fishing experience at the most reasonable rates, and carefully survey all of Lake Michigan's 22,000+ square miles to pinpoint the most productive fishing grounds. In addition, we own and operate twelve fully-furnished luxury lakefront condominiums. These condos include amenities such as fully furnished kitchens, barbecue grills, flat screen tv's, free wifi and are conveniently located right on Lake Michigan's western shore. Our entire staff is fully trained, licensed, insured, and they are all eager to lead you to some amazing catches.

Our goal is to provide you with a memorable experience. Past guests have commented on how remarkable their trip has been, and overall satisfaction has led to an astounding 74% customer return rate. No other sport- fishing operation on lake Michigan offers the range of quality services we have at Kinn's Sport Fishing! Whether you're looking for the perfect opportunity to entertain important business clients or simply eat to get any for the best fishing vacation with your family, we have you covered at Kinn's Sport Fishing! We strive to assure guests leave as both friends and satisfied customers. Let our world class captains and crew put you on the fish of a lifetime.

As you can see, we simply have it all for our customers to enjoy! I think you'll find that when you read our literature & compare our rates to others, that we still offer the best overall value in the industry. Please keep in mind that offering high quality, successful trips simply is not cheap. Lake Michigan is a "big lake" and there is simply no substitute for "Large" well equipped modern boats, with experienced professional captains. Thank you for your interest, we look forward to seeing you all on the water soon!