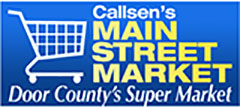 Main Street Market
7770 Hwy 42
Egg Harbor, WI 54209
Grocery/Convenience Store, Food & Drink, Open in Winter - Shopping, Markets/Specialty Foods, Open in Winter - Shopping, Wine/Beer/Liquor
Summary
Main Street Market is a full-service Supermarket. We are locally owned and operated - 364 days per year! Specializing in high quality products and prioritizing customer service is our goal. At our full-service meat counter, with real butchers, we carry Certified Angus Beef, Seaboard pork, Nueske's products & more. The deli department has many snacks, appetizers and dinner options to-go. Always made fresh- sandwiches, salads, lunch specials, dips and the best take & bake pizzas. The bakery has good smells from morning donuts to afternoon breads, baked daily. Our produce department is enticing - colorful & fresh, local whenever possible. We have extraordinary beer, wine & liquor departments- curated by our very own! Everything we do is genuine- we even bring your groceries to your car. Stop in for a clean, friendly and tasty experience. We're your one-stop shop where you can find everything you need & we're sure you'll enjoy it too!
Hours/Availability
Hours vary seasonally, check our website for current hours.
We Accept Door County Gift Certificates
Use for lodging, restaurants, shopping, attractions, performances, groceries, tours, and more!
View All Participating Members