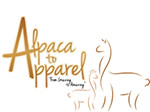 Alpaca to Apparel
4185 Main St
Fish Creek, WI 54212
Apparel, Activities & Attractions, Boutique, Food & Drink, Gifts, Hobby/Craft, Open in Winter - Shopping
Summary
Alpaca to Apparel is Door County's source for the finest alpaca clothing, socks, and home decor. Alpaca to Apparel strives to offer the most unique styles in luxurious baby alpaca fibers. We work closely with our designers and artisans, whom all value quality, comfort style and warmth as much as you do. Our unique designs are hand knit, hand crocheted, hand finished, and hand inspected to to meet the high standards of craftsmanship that Alpaca to Apparel and our customers demand. Throughout the year you will meet our live alpacas at farmers markets and festivals. Stop by our store on select weekends in the summer and fall to visit our alpacas and sample some mead (honey wine).
We Accept Door County Gift Certificates
Use for lodging, restaurants, shopping, attractions, performances, groceries, tours, and more!
View All Participating Members