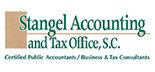 Stangel Accounting & Tax Office S.C.
354 Michigan St.
Sturgeon Bay, WI 54235
Financial Services, Business Services, Accountant, Business Consulting, Tax Preparation
Summary
Our services encompass nearly every aspect of financial life. We are experienced in all matters of accounting & taxation, IRS and state tax problem resolution, business formation, real estate & business sales, day to day bookkeeping and payroll/sales tax services. Our reputation for providing quality and responsive service & knowledgeable staff spell the difference between our firm and the rest. Call today to set up a complimentary conference to see if our firm can assist you with your business.
Winter Hours
Nov & Dec Mon-Thur 8:30-5 Fri 8:30-noon, Jan-Apr Mon-Fri 8:30-5, Sat 9-1