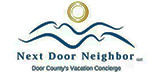 Next Door Neighbor LLC
1940 Cedar Cir
Sturgeon BAy, WI 54235
Vacation Rental Services, Property Management, Baby Equipment Rental, Cleaning Service, Concierge, Delivery Service, House Sitting
Summary
Relax and take back your vacation! Your time is precious. Leave the details to us and enjoy yourselves in Door County. We are here for you. We are your Next Door Neighbor. No matter what your needs are, you can count on Next Door Neighbor for the support you deserve. We see each customer as unique, which is why all of our services can be completely personalized to fit specific needs and preferences. Whether it's having your groceries stocked in your fridge and pantry upon arrival or making a run to the store for you during your stay, you can count on us. We are Door County's premier concierge service. Renee, Carrie, and Jen are full time residents of Door County. We are here to help make your stay relaxing and enjoyable. We love our Door and want you to cherish this little piece of paradise as much as we do. Whatever we can do to make your stay in Door County more relaxing and enjoyable, we are here to provide. You can count on us for impeccable service.
We Accept Door County Gift Certificates
Use for lodging, restaurants, shopping, attractions, performances, groceries, tours, and more!
View All Participating Members