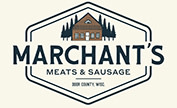 Marchant's Meats and Sausage
51 Green Bay Rd
Sturgeon Bay, WI 54235
Food & Beverage Services
Summary
Since opening our doors in 2006 Marchant's Meats & Sausage has strived to serve our community with top-notch fresh meats and smoked sausages. With over 50 flavors of brats, home-made take n' bakes, soups, pizzas, and more, stop in to see what we have to offer! We also offer catering and have weekly Brat Fry's in the summer on Thursdays from 11-1:30 supporting Door County non-profits.
Winter Hours
Nov-Apr Mon-Fri 9-5:30, Sat 9-2
We Accept Door County Gift Certificates
Use for lodging, restaurants, shopping, attractions, performances, groceries, tours, and more!
View All Participating Members