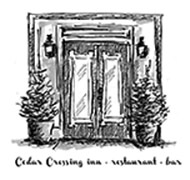 Cedar Crossing Restaurant
336 Louisiana St
Sturgeon Bay, WI 54235
Food & Beverage Services, Catering
Summary
Local cuisine inspired by the beauty and bounty of Door County, our kitchen prepares every quality, authentic meal from scratch with as many local ingredients as possible. Dine in our elegant, cozy dining room or relax in the refined bar. Enjoy unforgettable meals, rich wines, craft beers and creative cocktails on Sturgeon Bay's most vibrant corner.
We Accept Door County Gift Certificates
Use for lodging, restaurants, shopping, attractions, performances, groceries, tours, and more!
View All Participating Members