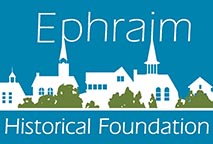 Ephraim Historical Foundation
3060 Anderson Lane
Ephraim, WI 54211
Activities-Group, Adventure, Outdoor Activities, Indoor Activities, Attraction, Tours, Educational, Family Friendly, Open in Winter - Recreational Activities, Museums, Educational, Family Friendly, Museums, Open in Winter - Recreational Activities, Tours
Summary
Founded in 1949, The Ephraim Historical Foundation is dedicated to preserving, sustaining, and sharing the history, culture, and beauty of Ephraim, Wisconsin. The Ephraim Historical Foundation operates a wide variety of historic attractions in Ephraim across eight historic sites.
Reviews & Ratings
More Information

Ephraim was founded as a religious community of the Moravian church, a Protestant religion begun in the early 1400's in what is now the Czech Republic and widely scattered around the world today. The Moravian's beliefs emphasize "in essentials unity, in non-essentials diversity and in all things love". Pastor Iverson lifted his first axe "with a psalm" as the settlers began to clear land and build their pioneer cabins. The small isolated colony persevered through two winters of near starvation, and it was not until the end of the 19th century that the economic viability of the area was ensured with the rise of the tourist industry.

Built in the first decade of the settlement were the Iverson House (1853), and the Anderson Store and Dock (1858). These buildings, along with the Anderson Barn (1880), the Pioneer Schoolhouse (1880) and the Goodletson Cabin (1850) are all owned and operated by the Ephraim Historical Foundation and are open to the public. Among other buildings of historical significance are the Moravian Church (1858), and Bethany Lutheran Church (1882).

History, music and the arts are woven into the fabric of the Village. Music permeated the whole of Moravian life and culture and the tradition helped play a part in the development of the nationally acclaimed annual Peninsula Music Festival, founded in 1953 and still headquartered in Ephraim. In recent years many artists including painters, potters and workers in other media have sought out the Ephraim area as a summer or year-round residence. Along with its musical heritage, these artists and craftspeople contribute much to the character and values of Ephraim, all of which complement and reflect the natural beauty of the area.

Preserving Ephraim's remarkable blend of natural beauty, heritage, and values is the focus of the Ephraim Historical Foundation. A visit to our museums will give both residents and guests a better understanding of the past, present, and future of this unique village.