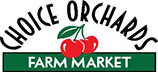 Choice Orchards
4594 Cty Rd HH
Sturgeon Bay, WI 54235
Attraction, Family Friendly, Orchards/Farmers Market, Orchards/Farmers Market, Family-Friendly
Summary
Choice Orchards has been growing cherries and apples since 1984. Stop in for pick your own cherries and apples, browse our market for many fabulous products and pre-picked cherries and apples, stroll our tree maze, picnic under the trees and check out our orchard museum! Open daily 9 am-5pm July 1st-August 15th and Sept 1st-October.
Winter Hours
Closed in winter
We Accept Door County Gift Certificates
Use for lodging, restaurants, shopping, attractions, performances, groceries, tours, and more!
View All Participating Members