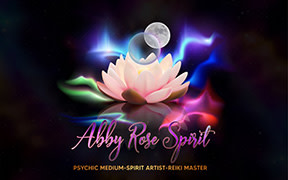 Abby Rose Spirit
217 N 4th Ave Suite 119
Sturgeon Bay, WI 54235
Activities-Group, Adventure, Outdoor Activities, Indoor Activities, Live Entertainment, Open in Winter - Recreational Activities, Psychic, Spirit Medium, Reiki Master
Summary
Abby Rose is a Professional Psychic & Spirit Medium, Spirit Artist, Intuitive Consultant & Reiki Master since 2011. She has the ability to communicate with loved ones passed and offers psychic insights on relationships, health, family, pets and more. Abby Rose also offers spirit art, while reading she has the ability to channel an image to its final flourish to produce high-quality portrait, usually of a beloved family member who has passed on.
We Accept Door County Gift Certificates
Use for lodging, restaurants, shopping, attractions, performances, groceries, tours, and more!
View All Participating Members