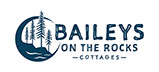 Baileys on the Rocks Cottages - Arbor Cottage
7962 Ward St
Baileys Harbor, WI 54202
Cottage/House
Summary
Charming Vacation Rental Cottages in the heart of Baileys Harbor.
Winter Hours
Please check website for availability.
Amenities

2 Bedroom
Air Conditioning
Bed Linens furnished
Central Heating
Children Welcome
Coffee Service (in unit)
Cottages
Cribs
Dishwasher
Downtown
DVD Player
Fire Pit
Fireplace-Common Area
Full Kitchen
Gas Fireplace-In-Unit
Grill
Hair Dryer
Laundry
Microwave
Non Smoking
Open Year Round
Private Baths
Refrigerator
Satellite Television
Showers
Television
Vacation Home/House
Washer/Dryer
Water View
Water/Electric
Wireless Internet
Rates by Date
We Accept Door County Gift Certificates
Use for lodging, restaurants, shopping, attractions, performances, groceries, tours, and more!
View All Participating Members