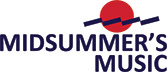 Midsummer's Music
10568 Country Walk Ln #43
Sister Bay, WI 54234
Activities & Attractions
Summary
For more than 30 years, Midsummer's Music has brought world-class musicians to Door County to enthuse and educate audiences of all ages. Creating powerful experiences with highly professional performers, Midsummer's emphasizes chamber music's strongest assets: intimacy, vitality, quality, variety, and portability. Concertgoers hear classics, lesser-known composers, and world-premieres of commissioned works. Venues include galleries, churches, museums, and private homes. Midsummer's Griffon String Quartet enriches the lives of children and adults through concerts, instruction, health and wellness programs, and community-embedded presentations.
Amenities

Group Cancellation Policy
Group Deposit Policy
Handicapped facilities
Motor Coach Drop-off
We Accept Door County Gift Certificates
Use for lodging, restaurants, shopping, attractions, performances, groceries, tours, and more!
View All Participating Members