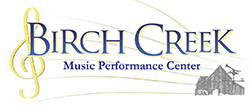 Birch Creek Music Performance Center
P.O. Box 230
3821 Cty. Hwy E
Egg Harbor, WI 54209
Performing Arts, Live Entertainment, Schools, Family Friendly, Family Friendly, Live Entertainment, Open in Winter, Schools
Summary
Birch Creek is Door County's unique summer music venue offering public concerts in a historic performance barn from June 23-August 13. Nationally and internationally renowned professional musicians are featured in Percussion & Steel Band, Symphony and Big Band Jazz performances starting at 7:00 PM, with student prelude music at 6:30 PM. Wind Ensemble Retreat and Chamber Music Retreat in mid-August. Fall Concert Series in September-October. Annual Christmas and Valentine's concerts. Call Monday through Friday 9 AM-4 PM.
Hours/Availability
Office: Mon-Fri 9:00AM – 5:00PM, Saturday 4:00PM – 8:00PM.
Winter Hours
Office: Mon-Thur 9:00AM – 4:00PM, Fri 9:00AM – 2:00PM.
More Information

Each summer, the Birch Creek Music Performance Center brings together generations of musicians and fans on its grounds in rural Egg Harbor. A music school by day and concert venue at night, Birch Creek offers sessions in Symphony, Percussion & Steel Band, and Big Band Jazz. Each of the concerts features a mix of professional and student performers who showcase their talents in the 500-seat Dutton Concert Barn.

Founded in 1976, Birch Creek is dedicated to educating talented young musicians ages 13 to 19. During each two-week instrumental session, the students work closely with expert professionals drawn from around the United States and beyond. From mid-June through mid-August, students get a taste of the real world of music as they learn and polish music rapidly and then perform new programs nightly. With an average student:faculty ratio of 2:1, young musicians receive excellent instruction in each of the four current sessions: Symphony, Percussion & Steel Band, and Big Band Jazz (two sessions).

For the audience, this means concerts of superb quality in a unique setting. Evenings include performances in the Dutton Concert Barn, in the school's outdoor gazebo and at other locations on the grounds. For information on Birch Creek Sessions, programs and concerts, and to purchase tickets, visit www.birchcreek.org.

Faculty/Student Performances Begin at 7:30 PM.

Pre-Show Music at 7:00 PM

Except:
Saturday, June 24 | 3 p.m.
Tuesday, July 4 | 4 p.m.


2017 - Birch Creek's 42nd Concert Season: 

Percussion and Steel Band: June 22 - 24, June 28 - July 1

Symphony: July 4, July 6 - 8, July 12-15 

Big Band Jazz: Jazz I July 19 - 22, 26-29, Jazz II August 2 - 5, 9 - 12


Free Family Concerts July 1, July 15, July 29 and August 12 at 1pm.

Outreach Concerts: July 26, and August 9 at 3pm in Sister Bay.


 
We Accept Door County Gift Certificates
Use for lodging, restaurants, shopping, attractions, performances, groceries, tours, and more!
View All Participating Members
Upcoming Events

June 22, 2023
Birch Creek Music Performance Center

June 23, 2023
Birch Creek Music Performance Center

June 24, 2023
Birch Creek Music Performance Center