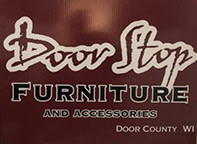 Door Stop Furniture
12595 State Highway 42
Ellison Bay, WI 54210
Furnishings, Open in Winter - Shopping
Summary
Welcome to Door Stop Furniture! We are a small, locally owned furniture store located in Ellison Bay, just minutes north of Sister Bay. We are open year-round from Thursday through Sunday from 10am to 4pm and by appointment. Whether you are furnishing your entire new home or rental in Door County or are just looking for a specific piece, we can help with your furniture and accessory needs. We are an Ashley Furniture dealer and have access to other collections and accessories. We cater to the needs of Door County residents as well as vacationers and other who think of Door County as their second home.
We Accept Door County Gift Certificates
Use for lodging, restaurants, shopping, attractions, performances, groceries, tours, and more!
View All Participating Members