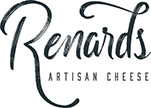 Renard's Cheese & Melt Bistro
2189 County Rd DK
Sturgeon Bay, WI 54235
Activities & Attractions
Summary
Open Year Round - 7 days a week. Free Cheese and Wine Tasting Daily. Family owned and operated, third generation of cheese makers. Renard's Cheese & Deli features a wide variety of their handcrafted artisan cheese, cheese curds, homemade sausage and specialty foods from throughout the Door County area. The Deli serves fresh sandwiches, wraps, soups, salads, pizza and much more. Indoor and outdoor seating - Eat in or take out! Shop online at renardcheese.com. Gift Boxes Available.
Hours/Availability
Mon-Fri 8am-5pm, Sat-Sun 9am-4pm.
Winter Hours
Nov-Apr, M-F 8-5, Sa-Su 9-4.
Amenities

Handicapped facilities
Motor Coach Drop-off
Open Year Round