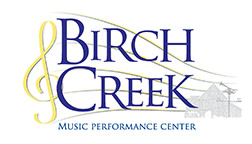 Birch Creek Music Performance Center
P.O. Box 230, 3821 Cty. Hwy E, Egg Harbor, WI 54209
Activities & Attractions
Summary
Birch Creek is Door County's unique summer music venue offering public concerts on its historic rural campus from June 17-August 7. Nationally and internationally renowned professional musicians are featured in Percussion & Steel Band, Symphony and Big Band Jazz performances starting at 7:00 PM, with student prelude music at 6:30 PM. Adult Band Camp and Chamber Music Retreat in mid-August. Fall Concert Series in September-October. Annual Christmas and Valentine's concerts.
Hours/Availability
Office: Mon-Fri 9:00AM – 5:00PM, Saturday 4:00PM – 8:00PM.
Winter Hours
Office: Mon-Thur 9:00AM – 4:00PM, Fri 9:00AM – 2:00PM.
Amenities
Group Cancellation Policy
Group Comp. Policy
Group Deposit Policy
Handicapped facilities
Motor Coach Drop-off
Open Year Round
Travel Green Certified