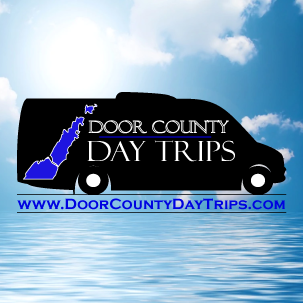 Door County Day Trips
Sturgeon Bay, 207 South 4th Avenue, Sturgeon Bay, WI 54235
Tours
Summary
Door County Day Trips provides smaller group (12 or less), luxury land tour experiences including: Day Trips, Night Trips, Private Tours & Transportation, 100% Online Booking for All Tour Types, Pick-Up & Drop-Off for All Tours, Personalized Tours, Local Guides, and Luxury Transportation.

DAY TRIPS

If your new to Door County and don't know where to start, or you only have a short time to visit and want to make the most of your time, Door County Day Trips offers a comprehensive all day (8-10 hours) land tour of the county so you can get acquainted quickly, find out where you would like to spend more time, and see/learn more of/about Door County while your here. All without planning a thing or looking at a GPS since we offer full pick-up and drop-off service.

We literally go up one side of the peninsula and down the other. With lots of quick stops to see the sights and longer stops at attractions, wineries, and villages that are of particular interest to the group that day; our tour is fast paced and customizable.

Our vehicle is a brand new luxury full-size van which is black in color with privacy glass, raised roof, extended length, full length running boards, and leather seats for everyone. Lots of room, but with smaller group sizes (max 12), you can have a glass of wine or something to drink without worrying about how you will get back to your lodge.

(See the peninsula with just your party by booking a Private Day Trip with us.)

NIGHT TRIPS

In addition to our Day Trip Tours, we also offer Night Trips. Night Trips start by picking your party up right at your lodging so we can also bring you back home when the night's activities are completed safe and sound. From there, you will be transported in our luxury van all around the county visiting the most popular nightlife destinations in the various towns and villages. Travel in style, have fun, and enjoy Door County's adult establishments responsibly.

(Visit the local pubs with just your party by booking a Private Night Trip with us)


More Information
PRIVATE TOURS & TRANSPORTATION

Want a private day or night trip or just want luxury transportation for your group of 12 or less while visiting Door County. It is our goal to offer easy, no-call-no-quote, online booking for all of our transportation services.

All private tours are presumed to be for the Door County Area only unless previously arranged. Private trip itineraries are largely determined by the group but our guides are happy to make suggestions or follow our normal routes. Your Choice!

You can book a private trip with us entirely online for the day, the night, or both. All without waiting for a quote or making or receiving even one phone call, email, or text. Up front, no waiting pricing and reservations. Just book and we'll pick you up.

If, however, you have something out of the ordinary in mind, or you want special pricing considerations, then yes, you will have to visit our Contact page to tell us what you have on your mind.

Thanks for visiting! Please see our website for availability, pricing, and to book your trip, Day or Night!